The ideal devices for versatility and ease of use.
Telescopic ramps are designed to adapt to various slopes and types of grounds. They are practical to use and light to carry, thanks also to the practical side handles, and take up a minimum amount of space. All models are made of aluminium and have special non-slip surfaces. They are available in various sizes and types.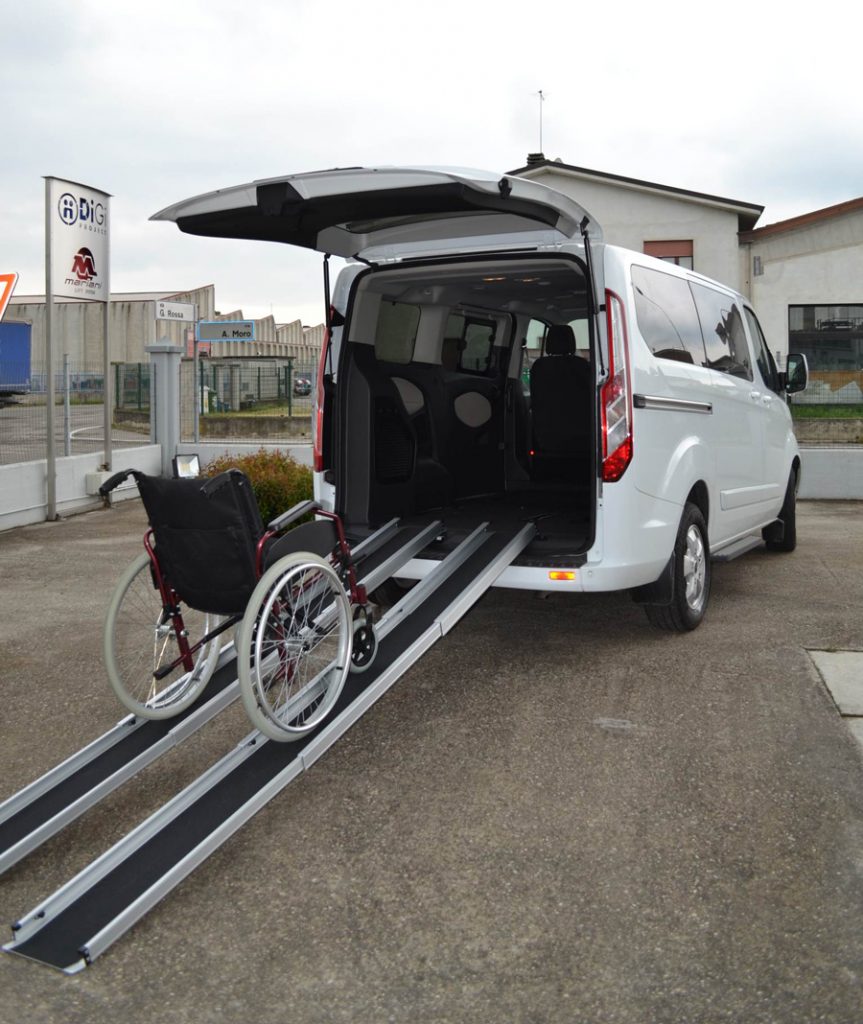 The telescopic ramp RT model is made entirely of aluminium and the rails, which have anti-fall side edges, are covered with a special non-slip layer.
These ramps, which are available in two different lengths (210 cm and 300 cm), consist of two rails with three sections each. The three sections are fitted with special stops to prevent them from sliding out accidentally and to prevent accidental opening or closing.
The ramps are equipped with a practical side handle which makes its transport easy.
A special bag to store the pair of ramps when not in use is available, upon request.
Technical data
Installation
Technical data
| Article | Lenght | Width | Inner width | Max load | Weight | Small edge height | Slope | Overall dimensions |
| --- | --- | --- | --- | --- | --- | --- | --- | --- |
| RT 210 | 210cm | 26cm | 19cm | 225kg | 2×7,5kg | 6cm | 12°- 40 cm | 95 x 26.5 x 7 cm |
| RT 300 | 300cm | 26cm | 19cm | 225kg | 2×9,5kg | 6cm | 12 °- 60 cm | 125 x 26.5 x 7 cm |
Installation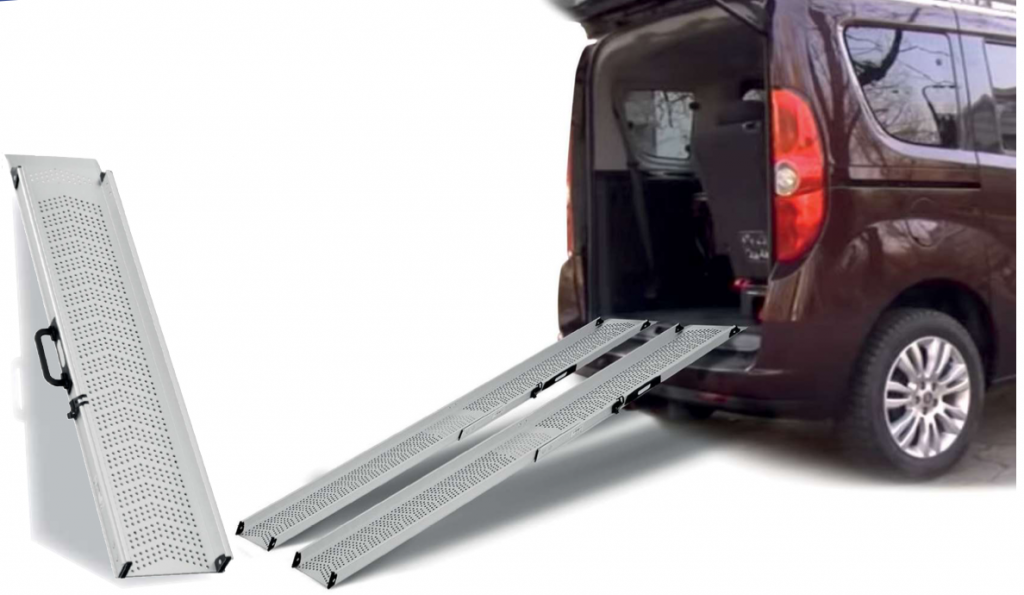 Entirely made of perforated aluminium to provide an optimum balance between weight and strength, the MTR telescopic ramps offer a great safety in case of rain and snow thanks to the holes in the surfaces. It is a very light ramp, practical to use and adaptable to any height difference and surface. The side handle makes them easy to carry and, on request, it is possible to purchase a special bag to store the pair of ramps after use.
Technical data
Installation
Technical data
| Article | Lenght | Width | Inner width | Max load | Weight | Small edge height | Slope | Overall dimensions |
| --- | --- | --- | --- | --- | --- | --- | --- | --- |
| MTR 210 | 210cm | 26cm | 20cm | 300kg | 2×5,8kg | 5,5cm | 12°- 40 cm | 128 x 27 x 9 cm |
| MTR 300 | 300cm | 26cm | 20cm | 250kg | 2×8,65kg | 5,5cm | 12 °- 60 cm | 108 x 26 x 13,5 cm |
Installation